---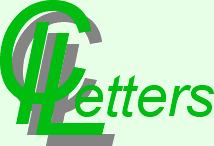 Volume 3, Issue 1; July 2001
Editor: Jonathan M Goodman
---
---
Professor Janet Thornton has been appointed to head the European Bioinformatics Institute (EBI) in Hinxton, UK. She is keen to strengthen the area of "chemoinformatics" and the links between the EBI and the pharmaceuticals industry. She is looking for world class young bioinformaticists, who want to establish their own groups to take forward computational biology in novel areas, in an institute which can provide a superb environment with all the best links into new biological data.
A powerful congressional committee has passed a budget bill which, if enacted, could close down PubScience, a free search service for the physical sciences literature, operated by the US Department of Energy (DoE). Opposition to PubScience was lead by SIIA
from http://esc.syrres.com/ This on-line interactive demo retrieves data from our PhysProp database of 25,000 compounds.
The National Toxicology Program (NTP) was established in 1978 by the Department of Health and Human Services (DHHS) to coordinate toxicological testing programs within the Department, strengthen the science base in toxicology; develop and validate improved testing methods; and provide information about potentially toxic chemicals to health regulatory and research agencies, the scientific and medical communities, and the public.
Out of date, but fun. How well can toxicity be predicted? Are the techniques good enough to be useful?
Properties of Organic Compounds is a database that contains over 29,000 common organic compounds, featuring physical data, spectral data and structures. Avaiable for free - for the moment.
The Nucleic Acid Database Project (NDB) assembles and distributes structural information about nucleic acids. It is run from Rutgers University in New Jersey.
Accelrys (formerly MSI, and other companies) is making available a database of failed reactions. This potentially useful information is usually lost, as it is rarely published or otherwise recorded.
A Registry of innovative E-journals
Could genes be named in a consistent way? Perhaps this is not possible. The Gene Ontology Consortium is producing a dynamic controlled vocabulary that can be applied to all eukaryotes even as knowledge of gene and protein roles in cells is accumulating and changing. This should create a useful framework without requiring a rigid naming scheme.
---
The National Technical Information Service is the U.S. Government's central source for the distribution of scientific, technical, engineering, and related business information. This information is produced by or for the U.S. Government and complementary material from international sources.
Can a paper lab note book be replaced by an electronic lab note book? This company thinks the answer is yes.
Gale Rhodes, Professor of Chemistry at the University of Southern Maine has written web tutorials on crystallography and macromolecular graphics.
---
© 2001 J M Goodman, Cambridge