---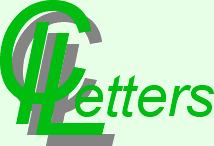 Volume 3, Issue 3; September 2001
Editor: Jonathan M Goodman
---
---
An index of academic chemists world wide, automatically generated from the Chemistry 2000 list of departments, and regularly checked. The list currently contains almost ten thousand names.
mmCIF is a macromolecular Crystallographic Information File format, based on the earlier CIF format (S R Hall, F H Allen and I D Brown (1991) A new standard archive file for crystallography Acta Cryst, A47, 655-685).
This forum, on the impact of the Web on the publishing of the results of original research, contains useful articles and opinions. The most recent opinion "The future of the electronic scientific literature" concludes that diversity is required and it would be unwise to be limited to a single economic or technological method.
Ensembl is a joint project between EMBL - EBI and the Sanger Centre to develop a software system which produces and maintains automatic annotation on eukaryotic genomes. Ensembl is primarily funded by the Wellcome Trust.
Google is an extremely effective search engine. Is it the best? If so, will it stay being the best? A number of other search engines are hoping to challenge it, including WiseNut, Teoma, CURE, and Vivisimo
Meta data is data about data. Why should this be important? This article explains how it has been important in the development of computer operating systems, and how, with the benefit of hind site, things could have been done better. Perhaps the experience of operating system design will be useful in the application of metadata to other areas.
Marvin is a Java based chemistry software that is available as applets, applications or Java beans. A new version has just been released. Marvin Applets and Marvin JavaBeans 2.9, JChem and JKlustor 1.5.10 have been released. The packages contain applications and development tools. The programs draw and display chemical structures, provide chemical database searching capabilities and support for diversity calculations.
Scirus is a new science-only search engine from Elsevier. Because it is focussed on science sites, it ought to be much better than other search engines, such as Google when faced with scientific data. But is it? What would constitute a fair test? When used to look for a few chemists, it worked less well than Chemistry 2000 and also less well than Google. However, this test on a few keywords was neither exhaustive nor representative.
---
The MEROPS database provides a wealth of information on proteases. It is run from the Babraham Institute
Microbial biocatalytic reactions and biodegradation pathways primarily for xenobiotic, chemical compounds.
Interactive Metabolic Reconstruction on the web.
---
© 2001 J M Goodman, Cambridge