---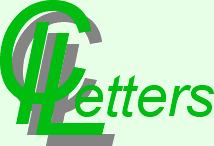 Volume 3, Issue 5; November 2001
Editor: Jonathan M Goodman
---
---
A European platform (EC funded) for access and retrieval of full text and factual information in the Life Sciences, run from EMBO. Our aim is to ensure high-quality, peer-reviewed, complete searchable combinations of information that would be made available on the desktop of e very scientist throughout the world,˛ explains Frank Gannon, EMBOšs Executive Director. It will operate in harmony with PubMed and PubMed Central.
Chemis3D is a free Java Applet for the online 3D Visualization of Molecular Models.
An internet navigator for the chemistry industry. It claims to be "the internet navigator..." but it avaerages less than 500 page views per day.
ChemNetBase provides a wealth of chemical information from Chapman & Hall/CRC, and offers the possibility of free trial access.
How do you name molecules? This is the official IUPAC answer. It is not an easy question.
British Official Publications Collaborative Reader Information Service: Browse British Official Publications over the period 1688-1995. Useful for contemporary issues. For example: should the British Museum charge an entrance fee? A discussion is available from 1774. The debate continues.
A conference at Nottingham, July 31st to August 2nd, 2002, will be attended by many of the world's leading computational chemists.
How small is it possible to make a transistor? It is possible to get down to molecular dimensions, according to this report from Bell Labs.
Computing in the data decade. The NPACI received $53million to build a teragrid. The NPACI is the National Partnership for Advanced Computational Infrastructure
Will peer to peer networking have an impact on academia?
---
The Bioperl Project is an international association of developers of open source Perl tools for bioinformatics, genomics and life science research. Perl has a key role as it saved the human genome project! The bioperl servers reside in Cambridge, Massachusetts USA with facilities donated by Genetics Institute.
A guide to chemistry, run by About.
First Announcement and Call for Papers for the Cambridge Healthtech Institute's Sixth Annual Chemoinformatics conference.
---
© 2001 J M Goodman, Cambridge